Welcome to my third annual "Album of the Year" blog post.

First off, I'm sorry to those who enjoy reading my blog (it is very possible I'm speaking to no one here) for not having posted at all this year. I thought several times about writing a post, even started writing, then lost my inspiration. Not sure why, it's just what happened.

So, this is my first post of 2018 - just in time for the new year! (I wrote this line in 2018, not realizing it would actually be the first post of 2019).

This year, my list of the top albums will be done differently, listing my selection by genre rather than just a top ten list. I think it will help ensure a more varied list, help you find new music, and allow me to put more of what I want into the list. So...here we go:
Powered by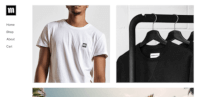 Create your own unique website with customizable templates.