This is the 4th installment of my "Humans That Inspire" section of my blog. I only write a new one when I find someone who really does inspire me, whether is be someone who I am close friends with or someone I've never met in my life. Why do I write these blogs?

​I feel that it's important do be the best person you can be and really reach for what you want in life and most of the time, doing this can be a real challenge. But inspiration is motivation - and I am a huge believer that the most inspiration can be found in the people around us. There are so many amazing human beings on this planet, and not only do they deserve to know how wonderful they are, but it only seems right to spread the inspiration they've brought to my life to as many people as I can. And that is why I love to write these pieces.

​
Powered by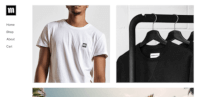 Create your own unique website with customizable templates.